The Fuji Instax Mini 8 and 9 are fantastic cameras to get started with the instant film world. They're fun and easy to use, and there are only a few easy steps between you and your first picture.
The Fuji Instax Mini 8 and 9 are essentially the same camera. The only way to tell them apart is that the Mini 9 has a tiny mirror next to the lens to use for selfies, and it says 9 on the front instead of 8. There's also an included snap-on closeup adapter, but that works on either camera.
The Instax 9 runs off of two AA batteries that will last you ages. If you've purchased the camera new, it'll usually come with two AA batteries in the box. Otherwise, any AAs will do.
If you're not planning on using this camera for a few weeks, be sure to take out the batteries. Nobody ever wants to come back months or years later and find that the batteries have exploded and corroded the inside of the camera.
The camera is simple enough to use, and best of all, the camera is very compact when not in use.
In order to load the film, open the back of the camera. Pull out and dispose of any empty film cartridge inside. If the camera is new, the compartment will be empty.
Unwrap the film cartridge, and place it in the camera. The film side of the cartridge should go in face down. There's a yellow mark on the camera that needs to align with the yellow stripe on the cartridge. The cartridge should easily fit in with no resistance.
Once the film is in, close the back flap. The two prong-y things on the inside of the back flap will press into the film, so don't worry if you feel a bit of pressure as you close it.
Let us watch the video below for complete information on how to use Instax Mini 9 for best results.
Sponsored:
Fujifilm Instax Mini 9 - Ice Blue Instant Camera
80 new
180 used from $ 39.01
Free shipping
Buy Now
Amazon.com
as of February 15, 2019 9:44 pm
Features
Takes 2 - AA Batteries. Picture size-62 x 46mm. Viewfinder-Real image finder, 0.37x, with target spot
New Selfie Mirror,Shutter Shutter speed:1/60 sec
New Macro Lens adapter for close-ups - 35cm to 50cm
Automatic exposure measurement. The camera signals the recommended aperture setting with a flashing LED. This helps capture the perfect photo every time
Focusing:0.6m - ∞
Product Description
Fujifilm Instax Mini 9 - Ice Blue Instant Camera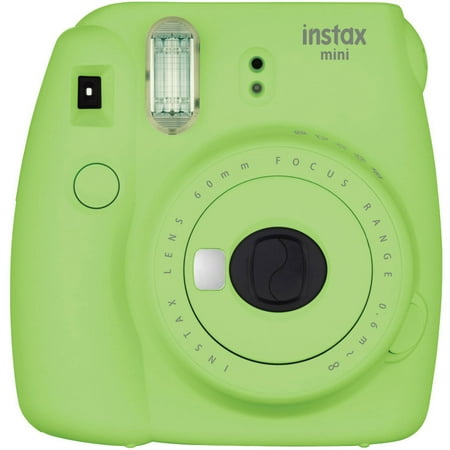 Fujifilm Instax Mini 9 - Lime Green
as of February 12, 2019 1:48 am
Accepts Fujifilm Instax Instant FilmSimple designProduces credit card-sized prints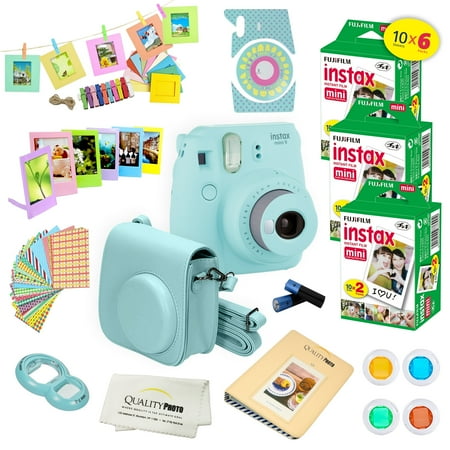 Fujifilm Instax Mini 9 Camera Blue + 15 PC Accessory Kit for Fujifilm instax mini 9 Instant Camera Includes: 60 Fuji Instax Films + Case + Album + Colored lenses + Assorted color/Style frames + MORE
as of February 12, 2019 1:48 am
Fujifilm Instax Mini 9 BUNDLE; Valuable, Useful, & ColorfulInstax is cheaper and just as reliable, if not more, than the new Polaroid instant cameras, fuji instax films are Compatible with the full line of the Fujifilm Instax Cameras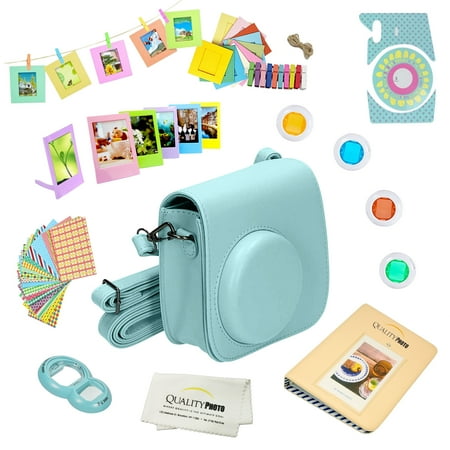 Fujifilm Instax Mini 9 Accessories kit (Ice Blue ) Includes a 12-piece Bundle For the Fujifilm Instax Mini 9 Instant Camera (Latest model 2017 Release.)
as of February 12, 2019 1:48 am
Fujifilm instax mini 9 DELUXE bundle by Quality PhotoTM includes5 x plastic instax photo plastic Framsinstax mini 9 photo albuminstax mini 9 camera case + strapSpecial close up lens w/ selfie miror4-color lens filters10 × Hanging Frames
Related Books & Manuals:
Related News: